Every time the seasons change, I feel a little bit of excitement about what's in store. The changing of the leaves, the cooler weather, and all those yummy Mocha lattes are just some of my favorite things! One thing that I love to do during this time is a meal plan with winter produce. If you're looking for some ideas on how to use winter root vegetables to create delicious meals then this blog post is for you!
Winter Produce
Here is a list of fruits and vegetables that are available in your stores and from your local farmers. It is always good to know what is in season. Generally, the rule of thumb is these items will be cheaper to purchase during this time.
Apples
Avocados
Bananas
Beets
Brussels Sprouts
Cabbage
Carrots
Celery
Collard Greens
Grapefruit
Herbs
Kale
Kiwifruit
Leeks
Lemons
Limes
Onions
Oranges
Parsnips
Pears
Pineapples
Potatoes
Pumpkin
Rutabagas
Sweet Potatoes & Yams
Swiss Chard
Turnips
Winter Squash
The USDA SNAP-ed website is full of amazing information on produce and even how to prepare the produce. This is a great resource to have. I would recommend bookmarking it to where you can use it as a resource. One page on the website talks about the Winter Squash. There are several different varieties of winter squash. SNAP-ed explains them and also includes some recipes too.
How to Meal Plan with Winter Produce
Meal Planning is one way you can make sure your family is getting balanced meals and staying on a budget. If you meal plan with the produce that is in season, you will see even more savings.
Meal Planning
Meal Planning is very simple once you do it several times. There are several menu templates out on the web but I just created a very simple one that you can sign up to get below.
Making a menu will make a visual of what you are cooking for the week and you will be more likely to stick to the plan.
Your family will know what is planned to eat for the evening and will not wonder.
You will be less likely to grab something to eat at a restaurant when you have a menu planned. When you plan it is easier to come in a cook.
Hang up the menu on the refrigerator or on the memo board in your kitchen. Make it visual and easy to see.
Create the menu from your cabinets and refrigerator. Try to always use items that you have on hand. Grocery shopping is for fresh fruits, veggies, and dairy and to replenish your stockpile.
Look at what produce is in season. You will want to menu plan based off of what is in season.
Make your shopping list from your menu plan. This way you don't get to the store and buy impulse purchases and cause your grocery budget to take a hit.
---
---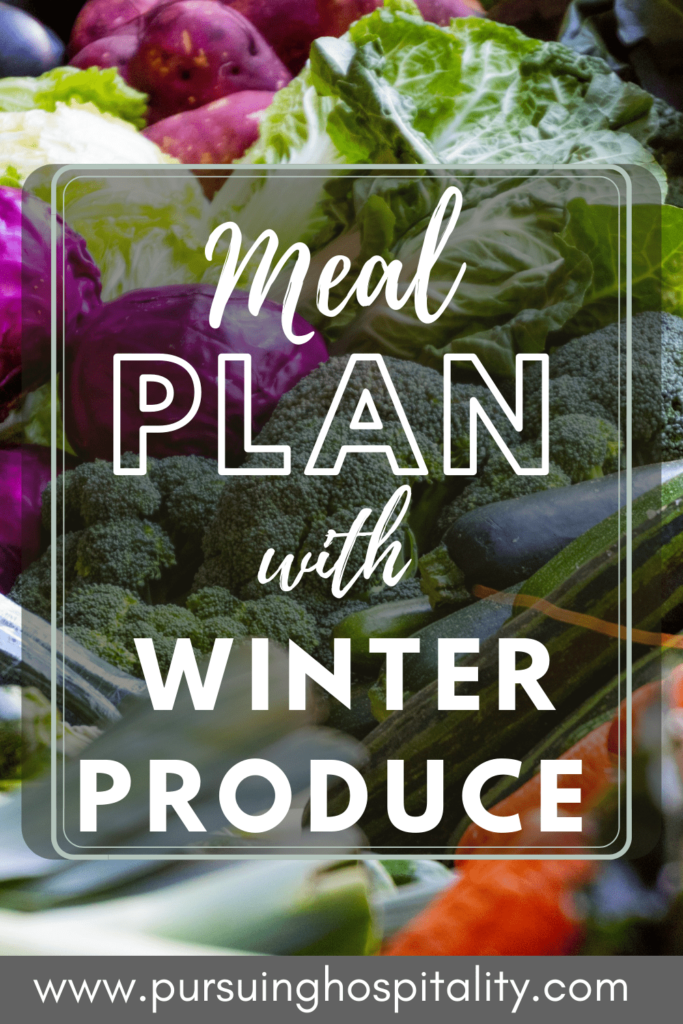 Meal plan with Winter Produce
If you look back over the winter produce list at the beginning of this post, there is so many wonderful fruits and vegetables. Some of my favorites for the winter are Brussel Sprouts, Cabbage, Spaghetti Squash (Winter Squash), and oranges.
When my kids were little, I would make them eat brussel sprouts. I look back over that time and cringe. They hated the brussel sprouts, and I don't blame them. I was cooking them all wrong. I finally stopped cooking them and didn't try again until they were adults. Now, it is one of our favorite side dishes for a meal.
Brussel Sprouts
Slice 16 oz of fresh brussel sprouts in half
Place in a bowl and drizzle 2 tbsp of olive oil.
Generously salt and pepper while tossing to mix.
Roast in oven at 425 until tender. Estimated 20-25 minutes
You can sprinkle with garlic and parmesan cheese for a wonderful taste as well.
Cabbage
This is probably my new favorite way to eat cabbage. It is wonderful and the presentation on a platter is beautiful.
Slice cabbage down the middle starting at the core.
Lay flat side down on cutting board and slice cabbage in 1 inch slices. Keep slice whole. Don't seperate pieces.
Lay slices flat on baking sheet.
Drizzle olive oil over the cabbage, salt and pepper.
Turn slice over and drizzle oil, salt and pepper.
Roast in oven at 425 for 25 minutes or until tender.
Some pieces of the cabbage will char but that is an added flavor. Place slices on a platter in whole slices to serve.
Winter Squash- Spaghetti Squash
I remember when I first had spaghetti squash. I could not believe how it cooks and how you can use it for noodles. It was so amazing. I love putting my sauce over the squash "noodles" for a low carb
Robin at Mamashire has a great tutorial on how to prepare spaghetti squash. She even has some recipes too!
When making your menu, take time and look at in season produce to fill your menu. You will introduce your family to maybe some new foods as well try different methods to prepare foods you have been cooking for a long time. Also, during the winter season when you can get apples, pears, kale and so much more wonderful produce, freeze and can extras for when these are not in season.
As meat prices are rising, use the produce that is in the season to bulk up your meals slim down on the meat. You can get protein and rich vitamins in so many other things. Brussel Sprouts, Potatoes, Avocado, and Turnip Greens are all great for protein as well.
If you would like an easy meal planner, don't forget to subscribe and print your free printable in the sign-up above.
Because of the food shortages and rising cost of supplies, we all need to be wise in our shopping and make sure we are giving our families food that is healthy and fresh. Learning to meal plan with winter produce is one way to make sure this is happening.
If you have a dish that you enjoy cooking in the winter months that is from the winter produce list, please share in the comments below.
Would you like to have a resource that you can hang on your refrigerator or put in your recipe binder that list the produce by season? Check out my post Seasonal Produce to Meal Plan. It has a beautiful set of printables for each season of produce.
Be sure to share the image below for others to be able to see this post too!