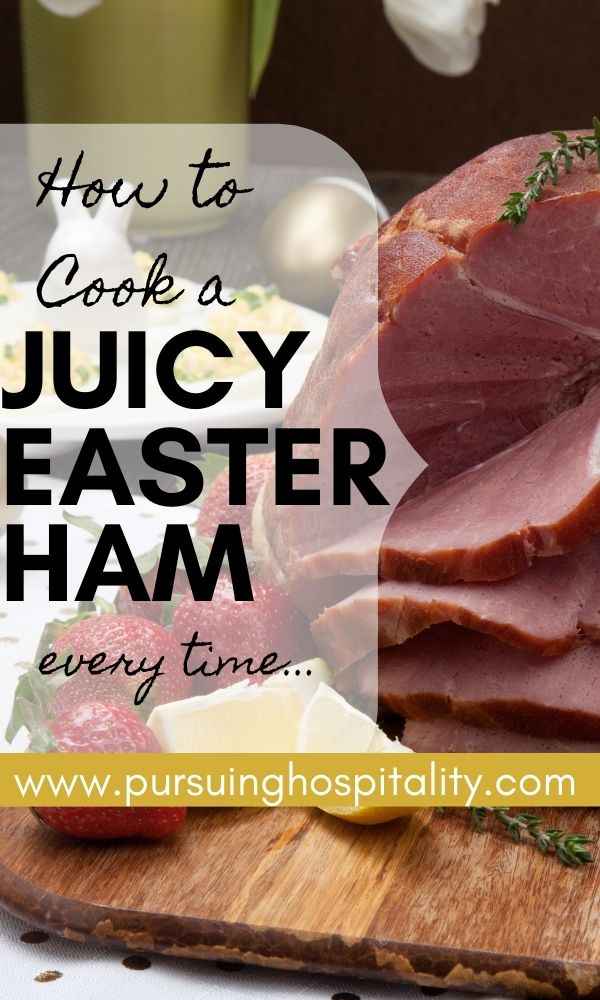 How to Cook a Juicy Easter Ham Every Time
The National Pork Board took a survey a few years back and 67% of American's that celebrate Easter serve Ham for Easter.  I had also read a report that 81% of American's celebrate Easter in some way.   I think back over the 32 years that Gregg and I have been married and I think we probably have had at least 75% of the Easter dinners to be ham.  It is the main dish on our table almost each Easter.  But I had to learn How to Cook a Juicy Easter Ham every time.
How to Buy Your Easter Ham
Bone-In & Boneless
When buying a ham, you need to consider the number of people you would be serving along with the type of ham you want to cook.   You can purchase a Boneless ham, Bone In ham, or a Spiral ham.
The Bone-in ham has three different options.
Spiral Ham: This is an easy way to serve a ham because it is cut and ready to serve as soon as it is warmed.  Spiral hams are known mainly because of the HoneyBaked Ham Company that has the patent on the process but you can get these ham cuts in grocery stores as well.  Side note, A HoneyBaked ham is a treat and very yummy.
Half Ham:  A half ham is either the butt or the shank portions of the pig.   The butt comes from the upper part of the leg and it is very tender and has more meat on the bone.  The Shank is the lower leg and could be a little tougher.
Whole Ham:  This is the best of the two options of the half ham.  It is both the butt and the shank.  This is a great option if you are serving a large crowd.  You will have plenty of ham.
Serving Per Pound of Ham
Ham can stretch a long way because you can slice it thin or thick,  but you do need a guide when buying a ham to make sure you don't run out or that you have leftovers that will go bad.   So here is  a basic guide to purchasing your Easter Ham.
Boneless Ham  ⅓ to ½ pound per serving
Bone in Ham    ½ to ¾ pound per serving
Spiral Sliced Ham (bone in)   ½ to ¾ pound per serving.
I have a printable that shares How much to serve at a Gathering that might be helpful for your side dishes as well.  Check it out here.    
4 Different Ham Processes 
You need to pay attention to the label when buying a ham.  They are processed in different ways.  It is always good to know what you are purchasing and how it will taste. I am always one that leans to the more natural process but it does cut down on the longevity of how long you can keep the meat in your refrigerator.
Types of Hams
Smoked Ham:   There are actually two different processes that can happen to the ham if it is labeled Smoked.  You need to look for the differences.   I would prefer the first one listed over the second one.

Smoked over wood chips.  If the label specifies that wood type, this is telling you it was smoked naturally over wood chips for a period of time.
Liquid Smoke.   This is either an atomized spray of liquid smoke that was sprayed onto the Ham or either injected with liquid smoke.  It will say, "Smoke flavor added".

Natural Cured:  These hams are usually preserved with a natural substance.  Usually Celery Powder, which is rich in nitrates, then smoked.
Dry Cured:  Country Hams are the best example of this process.  It has a lot of salt and will last the longest.
Wet Cured:  Many people call these City Hams.  I really don't know why but they do.  They are soaked in a brine and usually the brine is injected into the ham as well.  Check the ingredients but most of the time it includes salt, sugar, water, sodium nitrites and  potassium chloride.
Dress Your Easter Ham
Most likely, you have had a HoneyBaked Ham, and you know the sweet crunchy glaze that adorns the Ham.  It is amazing and really makes the ham a dessert.   I could just eat the crunch glaze by itself.
You can create a wonderful tasting Glaze for your ham at home.  It might not taste exactly like HoneyBaked Ham Glaze, but it will be amazing.
I have some great Glaze recipes on my Celebrate Easter Pinterest
Copycat Honey Baked Ham Glaze.
Bourbon Orange Glazed Ham
One of my favorite quick Easter Ham Glazes is so simple and taste amazing
Cranberry BBQ Glaze
½ Cup Jellied Cranberry Sauce 
½ Cup your favorite BBQ Sauce 
2 TBSP Honey
Mix together in a small bowl
When you find the glaze that you want to use, make sure you follow these instructions.  Put glaze on the ham 30-45 minutes before the ham will be done.  This will allow the Ham to soak in the Glaze and for the glaze to set on the ham.  But it will not give it time to burn.
How to Cook a Juicy Easter Ham Every Time.
In this section, I am going to share with you a simple process how to cook a juicy Easter Ham every time.  First of all, be sure to check your label but most all hams are fully cooked when you purchase them.
Preheat oven to 325º
Wrap your ham completely before placing in a baking dish with Aluminum foil.
Place wrapped ham in a baking pan that will give stability.
Bake your ham covered for 20 minutes per pound for bone-in and 15 minutes per pound for boneless.
Uncover 30-45 minutes before completion and put your glaze on the ham.   Leave the ham uncovered for the remaining time.
Hopefully , you have learned something new on How to Cook a Juicy Easter Ham every time.   Start watching for your grocery store to start stocking hams for this Easter season and pick your perfect ham.
Finally, Enjoy this Easter Season with your friends and family. It is always a great time to reflect on why you celebrate Easter and share that with others.