How to Show Hospitality in Your Neighborhood
Back in the '50s & '60s, you would drive into a neighborhood and you would see people sitting on their front porches and standing out talking with their neighbors.  As time passed, we started building garages.  From then, we didn't as a society come out to the front any longer.  We started the trend of hiding in our homes and sitting on the back deck.   How many of us can tell you the names of the people that is 5 doors down, let alone in the house next to you?  We have to break this trend and I think it is through sharing a little hospitality.   Let's chat today a little bit about How to Show Hospitality in Your Neighborhood.
Know where you live
This has been a HUGE burden on my heart since we moved into our sweet little neighborhood.  We live right in the center of Louisville Metro. Multiple times during the week we have our dear friends from the metro police circling in the helicopter trying to track someone down.  You see, we have chosen to live where it isn't the most desirable, safest, or coolest place according to many.  We love it!   Our community is full of diversity.  Just in our little street, we have a family from Mexico, two families from Cuba, two elderly families &  a single man. Right behind us, we have a Cambodian family & an Iraqi family.
All of these different cultures, bring different opportunities to reach out to them.  They are all different, they all see relationships differently.  The first step you need to do is to survey your neighbors.  Not an official survey, but get out, learn who they are and where they are from.  At least learn if they have children or if they are empty nesters.
So the first thing to do is get out and meet your neighbors. 
Step out of your comfort zone
Once you have found out who you share a street name with, it is time to do something more.  For many, this will be exciting and for some people, this will be terrifying.  It will be terrifying because you are opening up yourself and your home to people that you really don't know and they live really close.  Who knows, if you do this, they might just show up one day on your front porch to chat.
Suggestions on how to show hospitality to your neighbors
Plan a street yard sale.  This is such an entry-level idea.   Everyone will still be in their yards but it will be a fun time to do it together.  Visit the yard sales and take the time to chat with each family.
Afternoon playdate.  If you have stay at home moms on your street, plan an afternoon that you invite them over to have tea and cookies.  If you don't have kids in the house, on the invite tell them to bring their favorite toy to share.
Hot dog and Hamburger grill out.   Everyone loves to grill out.  Make it simple.  You provide meat, paper goods, and drinks.  Ask your neighbors to bring the sides.  I have learned through the years when I have done this, to always have bags of chips to pull out just in case the sides are not enough.  You can slip them into the mix without guests feeling like they failed in the mission.     Be sensitive to your neighbors and if you have Muslim neighbors, be sure to serve all-beef hotdogs.  They don't eat pork.
Family game night.  This one is a blast!   You can have volleyball, corn hole, bingo, Family Feud, the list can go on.   Have popcorn & drinks for everyone to enjoy.
Book club.  Start a book club for the ladies on your street or for the kids.
Holiday Porch decoration contest.   Challenge your neighbors to get into the holiday spirit.  You can give out prizes for the winners or get a trophy for the family to keep and have to pass on for the next year.  Be sure to get 2-3 people to judge that don't live on your street.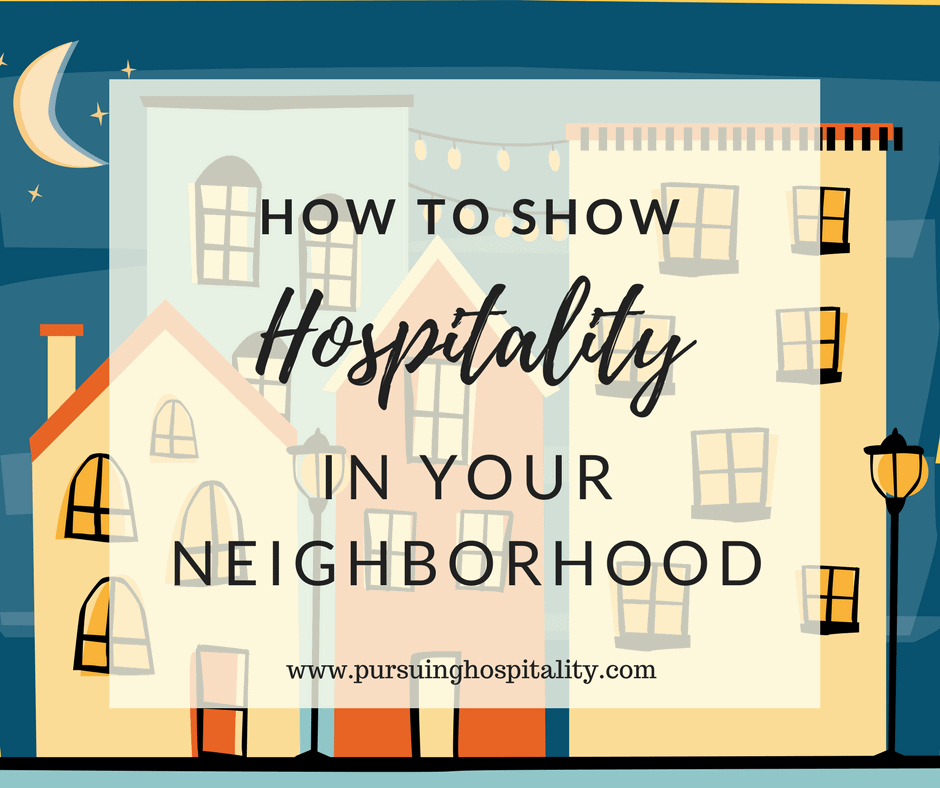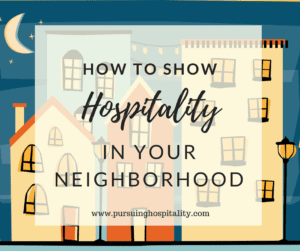 Follow up and be friendly
As you have read in the previous post,  Hospitality is not entertaining, we talked about what hospitality is.  It is getting to know the person.  Making the person feel they are loved and accepted.
You need to follow up.  Try to remember a couple of things about each family.  This will give you a conversation starter.   Showing hospitality to your neighbors is as simple as letting them know you care for them and desire to know them.