We love having guests in our home. When we have overnight guests in our home, our desire is that the guest feels welcomed and make our home their home. That even goes for food in our kitchen is open for our guests to enjoy. But we all know that guests don't feel like it is ok to just walk into the kitchen and open up cabinets. So let me share with you how to set up a snack area for your overnight guest.
We have some dear dear friends that live in Sunderland, UK that we met while they were staying at our home through Airbnb. They were in town celebrating their son's marriage and we got the biggest blessing getting to know them and now calling them friends. They were with us for almost 2 weeks. It took almost a week for them to realize that when we said, our home is your home and our kitchen is there for you to use and enjoy whatever is there. After their stay, I realized I needed to set up a snack area for our overnight guests. This would make them feel more comfortable.
How to set up a snack area for your overnight guest.
Clean and Organize your Snack Area
Clean and Organize an area in your home either in or near the kitchen. We use a bar area in our house to place a coffee maker, mugs, and snacks. Make sure it is visible and welcoming. Make sure the snack area is free of clutter and clean. This will encourage your overnight guest to use the snack area.
Variety and Options For Your Snack Area
Have a variety of snacks. The snacks that we love might not be the snacks that other loves. I could eat chocolate all the time but my husband loves peanut butter crackers. So take into account that your guest is most likely not going to love what you love. Gather a variety of different snacks for your guest to enjoy.
Some of my go-to snacks include great trail mixes. I will actually put my trail mix into glass jars and label them. I generally will have a spicy mix, a sweet mix and if it is near the Christmas holiday I will put a Chex mix in a jar. Southern Grove has a spice trail mix that I really like. The butter toffee peanuts are the perfect amount of sweetness to pair with the spice.
If I don't have time to make homemade bread, I will have the Otis Spunkmeyer muffins as a backup. What I like about these is you can have your supply in the freezer until you need it. Just pull out however many you need and place them in your container in your snack area. They will unthaw and still taste amazing. Blueberry is my favorite, but as I said, not everyone carries my taste. So I put out one of each flavor for the guest to enjoy.
I would be crazy not to remind you about the mini cinnamon rolls that I wrote about a couple of years or so ago. That idea/recipe has been pinned and shared over 30,000 times. CRAZY I know!!! But it is such a simple recipe and everyone loves them. Be sure to jump over and read The Easy Pillsbury Crescent Mini Cinnamon Rolls Recipe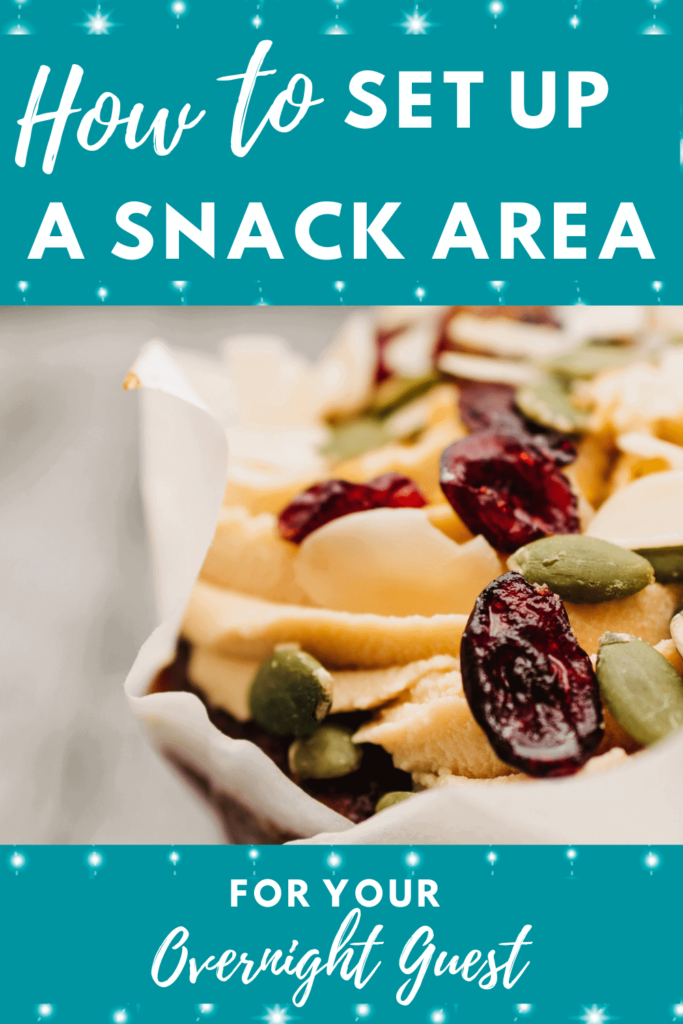 Drinks For Your Snack Area
In our house, we love fresh ground coffee each morning, but we are not early risers either. So that causes stress on our guests if they like to have a cup of coffee first thing in the morning. (Before 8 a.m.) I have to be sensitive to the fact that others are not night owls like me and really do not like my feet to touch the floor until 8 a.m. Pinky Promise, if you are a guest in my home, I will try my best to be up either at the same time you get up or soon after. No promises if you are one that rises before 6 A.M.
For coffee & hot water, I would suggest a Keurig. Keurig has a Keurig K Mini Coffee maker that is slimline and will be perfect for the snack area. A small basket of a variety of different coffees beside the Keurig will help their morning be a delight. If you are an early riser, there is nothing that beats a fresh brew of coffee and your guest will love that.
don't forget the tea…
Have a good selection of 2-3 different teas. I like to have a black breakfast blend, a green tea, and a decaf fruity tea. My favorite place to get teas here in the States is Harney & Sons. My personal favorite is Hot Cinnamon Spice.
Bottled water. Have 2 for each guest on the snack bar. Guest will most likely grab a bottle when they are arriving and also one when they are leaving or heading to bed. If your guest is drinking quickly the bottled water, just refill your snack area as quickly as possible, but it is not rude to show the guest where you store the extra water.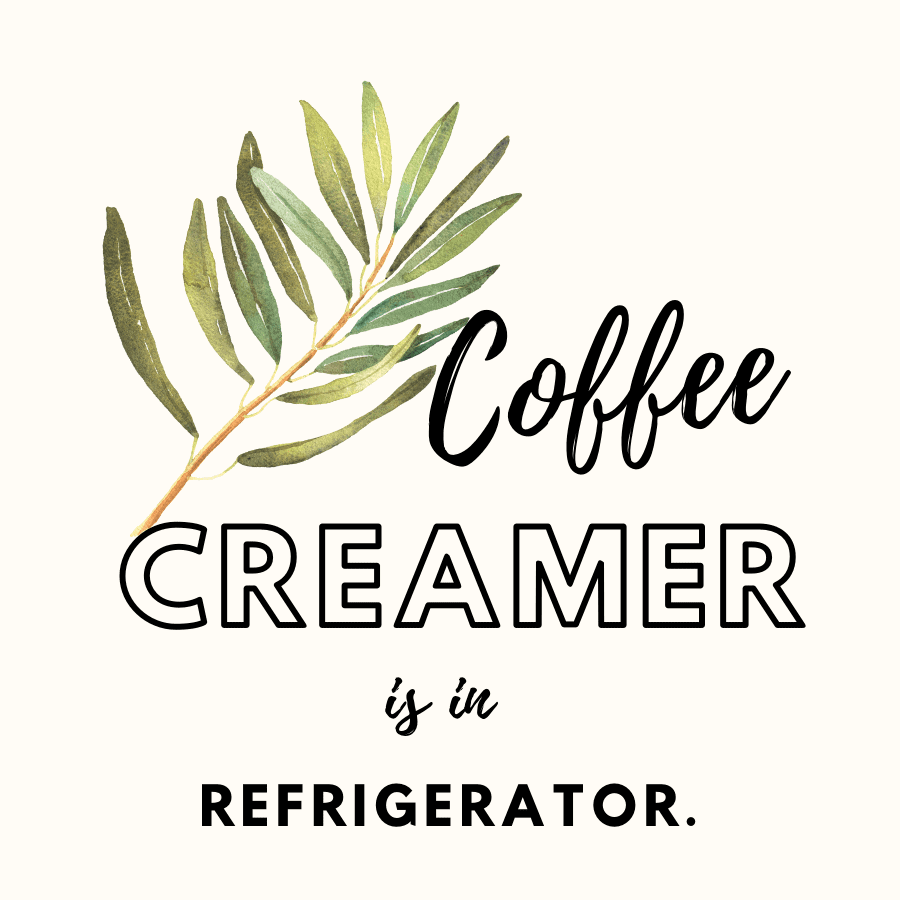 Creamers, sugars, and additives. Your guest might want to put a splash of cream in their coffee. You can have a sugar bowl out for your guest but the creams have to be kept in the refrigerator. Keep them in the refrigerator that is easy to access and see. I like putting a little note card beside the sugar that lets them know to get the cream from the refrigerator. I have, the above, cute little design for you to print out if you would like. It is for a 3X3 card for you to lay by the sugar or coffee maker.
Where to put the Snack Area for Overnight Guest
I have seen this done in several different locations and displayed in several different ways. There is no right from wrong. The only hard answer is that the snack area needs to be visible and welcoming to your guest. Also in a safe place that is free of pets, pests, and little hands.
I have two locations where I put my snacks. One is our buffet table that sits to the side of the kitchen. This is the best location for a snack area. It has a plug to be sure they can make coffee, as well as the top of the buffet, gives enough room for the different snacks and drinks. The other location is in the middle of my kitchen on our large island. I don't have an outlet on the bar so any coffee makers have to be placed on the kitchen countertops. This works well but I don't like having the guest snack area divided up.
As you can see from the two locations that I choose, there is no right or wrong. You just have to do what works best for your layout.
I have also seen where a rolling cart is used and it is placed in the guest's bedroom. I actually love this idea because the guest can go to their room and if they stay up later reading or working, they don't have to get dressed to come out of their room to grab a water or snack. What is great about using the roll cart, you can put the small Keurig and a large bottle of water on the cart and the guest can have coffee and muffins in their room before even coming out. Breakfast in bed if you will.
A final thought about your Guest Snack Area
As I am sitting outside on my deck enjoying this beautiful spring Sunday morning, and talking about the guest snack area, I am reminded that our family is the first guest that we should be thinking about. Our families are the first circle to who we need to be showing hospitality.
I am not trying to downsize the importance of what we just chatted about but remind me and you that our husbands, children, and grandchildren need to feel loved and welcomed just the same. The way I do that is I have a snack drawer in my home. A drawer that is filled with different snacks that each person in my family enjoys. From sweet to salty, savory to sour, they can look in the drawer and know they were thought of. Be sure to remember the most important guests that you will ever entertain in your home as well.