Do you have a bunch of green onions in your vegetable drawer and they are about to go bad? I find a bunch in my bin so often that I have just forgotten about it. I want to share a quick and easy way to turn a negative into an amazing positive. Let me share with you how to dehydrate green onions and scallions that taste 100 times better than the prepackaged store-bought.
How to dehydrate green onions and scallions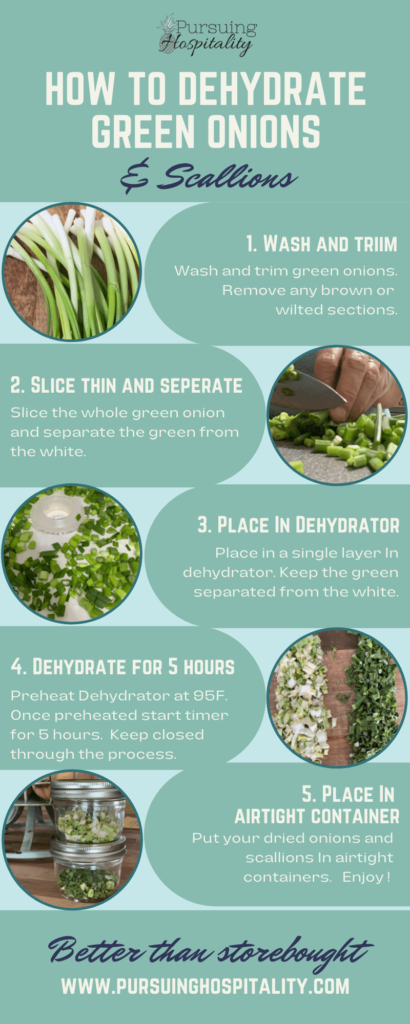 Wash and Trim Green Onions
You need to be sure to wash and trim the green onions before processing them. Trim off all brown and "slimy" parts of the green onion. Trim the roots off of the green onion bulb. It is ok to trim some of the bulb. This will actually help in the upcoming step.
Slice and Separate Green Onions
Slice and separate the green onions. Not only separate the green from the white but the rings in the white bulb. This will help in the dehydration process. Slice the onions in some of a uniform size. This helps with the dehydration evenly.
Place in Dehydrator
Place the green onion stems on one layer of the dehydrator and the white onion on another level. If you only have one tray, just keep them separated. This is more because it is easier to place in your airtight jars at the end.
Make sure you get the pieces laying with no stacking. You want to make sure every piece is able to dehydrate evenly.
Dehydrate for 5 hours
Dehydrate for 5 hours at 95F. Do not raise the temperature to speed up the process. If you dehydrate the onions too fast, you will have hard tough pieces. When the 5 hours is finished, check the onions. If the onions are still not fully dehydrated, add an hour to the time. Repeat this until you feel the onions are fully dehydrated.
Adding time to the dehydration process could be due to the cutting size being too large or the onions being thick. Another tip in the dehydration process is to not open the dehydrator until it is finished.
Store in Airtight Containers
Place your dehydrated onions and scallions in separate airtight containers. I choose to keep mine in little 1/2 pint Ball Jars. The jars stack great and I can keep them in my caddy by my stove.
You can also grind the white onion and make onion powder if you would like. This will be so much richer than the store-bought onion powder.
How to Dehydrate Green Onions and Scallions to have better quality seasonings.
Dehydrating your own green onions is such a better product than what you can get in the grocery store. You can choose to get organic green onions to do this process or use regular green onions.
The onion taste is so much richer. Having dehydrated onions on hand, you can toss them in salads, soups, omelets and so much more!
Try some of the 7 Delicious meal ideas from Trader Joe's and sprinkle your green scallions on top. I would do the Orange Chicken with the scallions. YUMMY!
I would love to have you a part of the Pursuing Hospitality Community. You can sign up for our newsletter below and receive some wonderful scripture cards about Who you are in Christ. Be sure to join us!