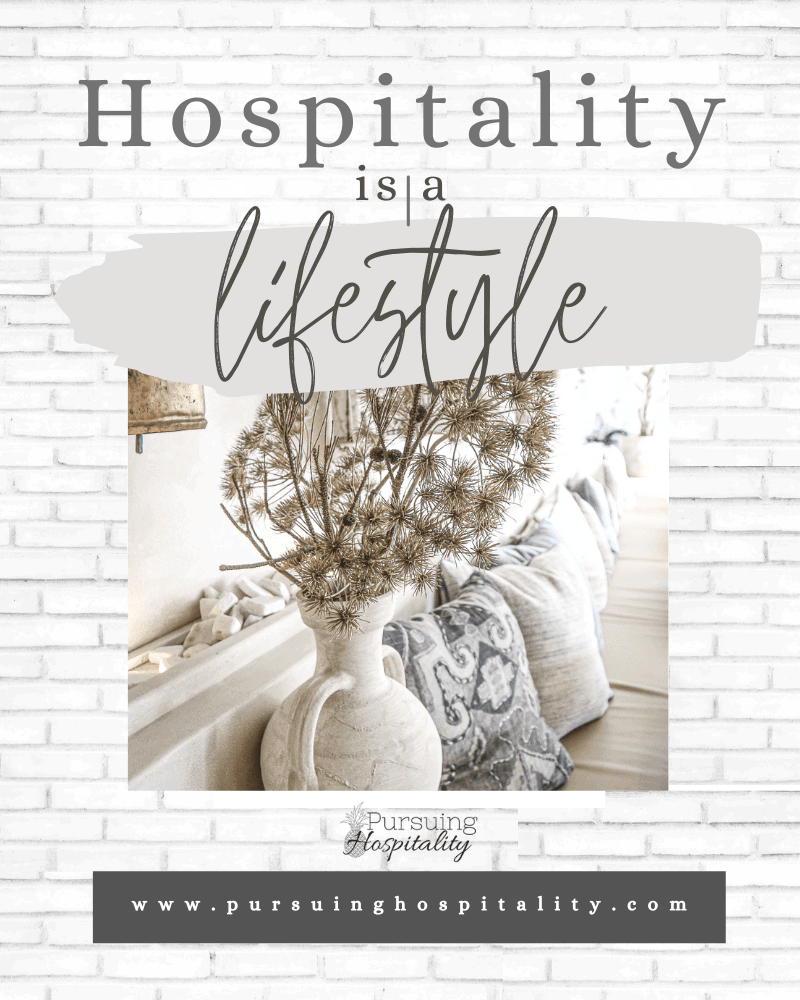 Do you truly believe that Hospitality is a Lifestyle? I do think you have to have the end goal of almost everything you do. In this case, to be providing and serving others in a way that shows them hospitality. Or translated a little better, love and acceptance of others. If you take on the view that Hospitality is a lifestyle, you will be looking toward others in a different way. You will also be looking at your home, possession, and talents in a whole new light as well. Over the next few minutes, let's chat about how to make hospitality a lifestyle. You will be able to create your home as a place of refuge and a place that people will start to want to gather.
Hospitality is a lifestyle…
By adjusting your thoughts
To obtain hospitality as a lifestyle, you first need to get your mind wrapped around it. Your thoughts and your thought process are so important and the first thing you need to start working on if you don't already have a hospitality mindset.
I would recommend reading different books on Hospitality. Here are my top 3 favorite books.
If you are filling your mind with ideas, theories, and examples, this will help you see yourself and your home in that way too. Journal about how you desire to open your home, love others and reach the unreachable.
Starting on November 14th we are going to be doing 30 Days of Hospitality to make our Holiday season focused on others. If you would like to be a part of an awesome time, sign up below. You will be receiving an email on Sunday mornings with a challenge and encouragement for that week. It will give you many ways to show hospitality to others around you. ( your email will not be shared or sold. It is just for us to connect.) Let's make this holiday season special for those around you.
Hospitality is a lifestyle
Being intetional with your life
This one is hard. Probably the hardest task you will do when dealing with Hospitality. As I look back over the past 32 years of marriage and see gaps in my life because I didn't have a plan, I didn't have a desire and I didn't have a mission. This is when I also dealt with loneliness, depressions, greed, and selfishness during those times.
I have a friend that is learning a hard lesson right now, because of the loss of her home by the fire, she is having to be so flexible. The lesson that she is learning has nothing to do with how hospitable she is. But what she is learning is something that I can relate with when being intentional with hospitality.
"Hold plans and posessions lightly"
This is what I hear her saying right now. In being intentional in hospitality, we need to do be doing the same thing. In other words, we need to look at our possessions as not our own for just our own enjoyment but ways to extend out to others. For example, If you have a large backyard, invite people over and have a fall get-together. You can open it up for your neighbors to gather. Maybe, throw out your corn hole games or other yard games and make it a place that you get to know people deeper and build relationships that will grow. Also, unless you have plans that are unchangeable, hold your plans lightly to where you can accept others into the plans or change them to accommodate the need.
Just a small act of hospitality
Most of us have a living room that has at least a couch and a chair. The majority of our homes have an extra bedroom. There are so many people that need just a place to land for a night or two or a place to come over and watch a football game to unwind and connect. This is such a small act of hospitality but pay attention to the people around you. Listen for what they love to do. If you know they love sports, invite them over for a sporting event to watch with you.
This might be a little harder for some but, holding your possession lightly is the ultimate goal for making hospitality a lifestyle. I have areas I struggle with and I will admit that. But I know that our home is blessed with everything we need to survive. Holding your possession lightly can be as little as sharing your leftover food with a neighbor. Or even a person you know doesn't have the ability to cook a home-cooked meal. On the other hand, your friend is in a hard spot and does not have a vehicle that can get them back and forth to work. You have a vehicle that you rarely drive. Needless to say, share your car. You can put a limit of use on it or have an agreement of use for your friend. But living a life of hospitality will call us to hold our possession lightly.
Create a Hospitality Inventory Tracking List
To help get your head wrapped around what you can start using to host people, items that you can start to hold loosely, and even what you are not quite ready to let others enjoy, a Hospitality Inventory list will help.
I have a simple printable for you here for your hospitality inventory tracking list but you can keep up with a list in a notepad as well. Either one is fine, just take the initiative and start listing your possessions that are shareable.
Let me share some examples of some of the items that would be great on an inventory tracking list.
Extra bed room – can be used for guest or short term guest
Basement – Can be used for a group to gather
Living room – A place for people to gather and someone to sleep on the couch for a night
(2) 3 compartment crockpots
2 Plate stands
As you can see, Items that you can use to open your home, meet a need, and share with others. In addition, when you write this list, it helps you to see that you are very valuable to others around you and you can start having the heart of hospitality.
In conclusion, life is hard right now for so many people. Many are without a job, some suffering from the loss of a loved one, even some are depressed because of the lack of social interaction. Above all, take time to look beyond yourself and start creating a lifestyle of Hospitality. I can't wait to hear how you are going to knock this out of the park.
Other Ways to show Hospitality
There are so many ways you can reach out and show hospitality. Check out these ideas that I have written about lately. Being a Gap mom and dad as well as making freezer meals for college students. Easy ways to make Hospitality a lifestyle.