Charcuterie? What is a charcuterie and how do you even say charcuterie? This is a French word and it is pronounced, "shar-coo-tree". A charcuterie board is a selection of meats, usually thin-sliced, that are surrounded by foods that complement the meats. Such as cheese, crackers, fruits, nuts, etc. This easy Thanksgiving charcuterie board will sure be a hit at your gathering and you will have so much fun making it.
Charcuterie Board DIY
Charcuterie Board DIY has become very popular and once you try it, you will realize that it is easy to make. The layout for a Charcuterie Board is all about being symmetrical and keeping a similar color palate.
The size of your tray or board will determine the number of cheeses, crackers or bread, meats, nuts, and fruits you will need. When I am making my boards, I plan anywhere from 3-4 different cheeses. As well as the same amount of different meats. Fruits, crackers, and nuts are used to fill in the areas on the boards. These are the basic food items that go on the board. You can expand with other items but for the general board, these items are normally on the board.
For a Thanksgiving Charcuterie board, I also added some candy corn and peanut mixture to give that fall flare. As well as some small ceramic pumpkins in muted colors & greenery to add character. Be sure to check at the end of the post for where I found my decorations for the Thanksgiving Charcuterie Board.
Charcuterie Board Cheese
There are hundreds of options for the cheese to use on your board. It can get overwhelming. Charcuterie board cheese is one area that can make the price of your board go up really fast. If it is a board that I am going to be serving in a setting that has a lot of young children and adults that are not necessarily "wine enthusiasts" I choose the more common cheeses.
Cheese Options
Brie round. Purchase the small round if possible but if you have to purchase the large, you can cut into wedges.
Aged Cheddar I really like the Kerrygold Dubliner cheese. This cuts great into sticks or cubes.
Wedge cheese. You can get a colby Jack cheese, Pepper Jack Cheese or a more expensive wedge cheese Manchego or Gouda.
Aged Blue Cheese for that punch of a taste.
Ways to serve the cheese
Soft cheese like Brie, you need to just but into a wedge and have a cheese knife for the guest to cut.
Aged cheddar or hard cheese, you can cut into squares, strips or if they are wedges, cut lengthwise and each slice will be a triangle. The displays beautifully when you rotate every other piece or stack to give it character.
Aged Blue Cheese. I love to crumble part of the block and have the rest sitting next to the crumbled pile with a cheese knife for guests to cut when needed.
Charcuterie Board Meats
This is the food item that really gives the board its name. Charcuterie is an Italian word that means cold-cooked meats. It gives the board an amazing flavor that pairs well with the cheeses.
Once you choose the amount of cheese that you are going to use for your Thanksgiving Charcuterie Board, you can select your meats. I enjoy having meats of different flavors, spice levels, and textures on my boards. Here are a few options that I consider my go-to meats.
Meat options
Prosciutto Italian Dry Cured Ham
Sopressata Italian Dry Salami
Dry Cured salami. Usualy. pork or beef that has been air dried.
Jerky. Dried Beef, pork, chicken, etc. This is more of an american version of meats but people enjoy them.
Ways to serve the meat
There are several ways to serve the meat on the board. All the meats are usually sliced thin when you purchase them.
I love folding the round slices in half and then in half again and stacking next to each other. When laid on the side once you have several done, it looks like a ribbon. An example is in the picture above.
Prosciutto is soft meat that you can either roll or I prefer to take it and pinch the middle of the slice and twist. I twist it until it forms. a softball. This displays great and people can pick up easily.
A fun way to display the round slices is to make a rose. You can watch a youtube video on how to make these. They are very easy to make and turn out beautiful. I have instructions posted on my Pinterest board Celebrate Fall Be sure to follow that board for more great ideas too!
Crackers, Fruits & Nuts
There is so much you can add to complement your Thanksgiving Charcuterie Board but staying with the simple items makes it fit most guests' palets.
Crackers- Choose a simple cracker like a wheat or butter cracker or both. You could also serve a berry cracker as well.
Fruits- Grapes and apples pair great with cheese and meats. These fruits are available all year long. Wash the grapes and apples before serving. Clip the grapes into small servings. Cut the apples and spritz with lemon juice to keep from turning brown.
Nuts- Almonds & Cashews are great for the board. These can be placed in bowls on the board or put into a pile.
You can put olives, pickles, and other items on the board as well. It is totally up to you what you want to pair with your meats and cheeses.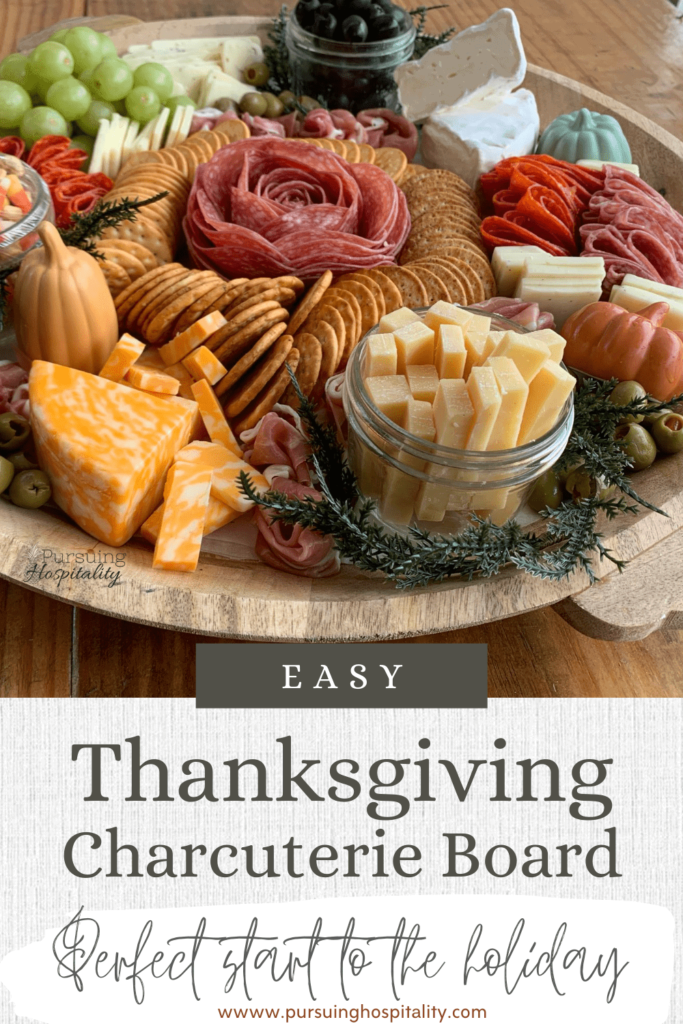 Charcuterie Board Designs
This is where your creativity comes in. The main thing you want to do is keep your board even. I work off of a triangle. I place my cheeses in a triangle on my board. Then meats, I place one in the center of the triangle and the other two meats on the outside of the triangle. All spread at equal distance. From that point, I fill in with my fruits, nuts & crackers along with any other items I have to add.
As you can see in the images on this post I used Cheeses in more than 3 places to fill in gaps. That is fine to do. you just need to make sure it is spread out and not all bunched together. Pinterest has so many ideas. You could make a different board for every occasion.
Supplies
You probably have everything you need at home to make your own Thanksgiving Charcuterie Board, but as you start to expand your hosting supplies, these are some great pieces that will be great for your home.
I can't wait to hear how yours turned out! Please let a comment below and let me know. It is always a joy to hear from you.
Have you read how Hospitality is a lifestyle yet? Be sure to check it out. Especially since we are headed into the busiest season of gathering together.