You can read my disclosure here. 
Amazing Experience with Lawsons Yukatan Excursions
We had an amazing experience with Lawsons Yukatan Excursions this past September.  You ask me, how does this fit into Pursuing Hospitality's mission?  From traveling and experiencing different cultures and ideas of hospitality, I have learned so much.  I think we can learn and take away from every experience and see how we can improve in the area of hospitality.   By the way, don't you just love the picture above of Gregg floating in a Cenote?
We traveled to the Yukatan this past September by boat and met up with Lawsons Yukatan Excursions.  From the beginning of planning the trip, the company was amazing at sending emails to share options and idea.   The communication was open and very friendly.
The first thing I noticed about their hospitality was, they ask about the group that was coming to visit them.  They asked our name, ages and any concerns we might have.  They even asked what type of drinks we would enjoy having in a cooler. Once they learned a little about us, they suggested some excursions that we might enjoy.
We chose the Three Cenotes and Lunch excursion.  Gregg and I have traveled a lot and have done many things.  This is probably one of my favorite excursions.   The Cenotes are amazing. I have never swum in Cenotes.  The ones that we got to experience with no other guest around and we got to enjoy as much time as we wanted at each one.
Then we ended at a wonderful local restaurant and ate so much food!  The Yukatan food is delicious.  At the restaurant, which was on the property of the Cenotes, were ladies there making fresh tortillas.  If the picture below could smell, you would be jealous right now.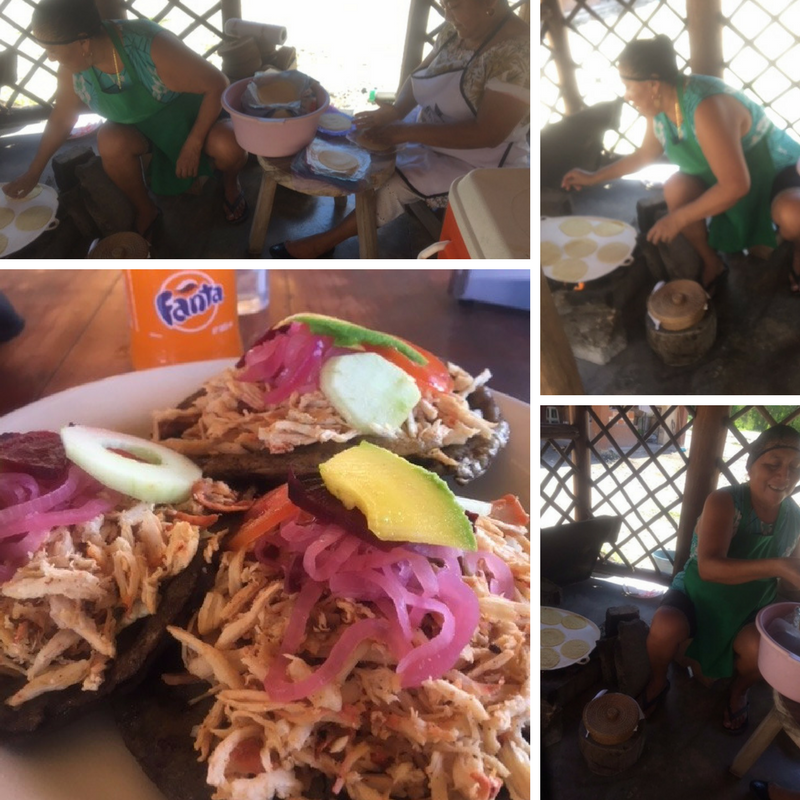 Let me share with you the top hospitality tips I gained from this excursion.
Top Hospitality Tips learned from the Yukatan
Tip #1   Listen to your guest. They have likes and interest. Listen and learn how you can serve your guest. 
 " There is a lot of guides that know a lot of information about the area and culture but we hire only the guides that know the value of listening to the guest and sharing with them what is important to them and what they want to know about the culture."  From Daniel with Lawsons Excursions
Tip #2  Give your guest something that they would not even expect.   We had never been to the Yukatan so we had no idea what to even expect.  Our private guide took time with us as we traveled and pointed out different things that were interesting.  He even stopped in a small town square for us to see the Yukatan people going about their everyday life.  The highlight of that stop was the Maya Temple we got to see that was not even on the excursion.
Tip #3   Allow your guest the time to enjoy what you have for them.  We had a private tour and it was amazing.  Daniel allowed us time at the Cenotes. He knew our time frame and knew what all we needed to do but he didn't rush us and make us feel like we were a burden or obligation.  He talked to us about how Cenotes are found and then allowed us to enjoy the beauty.   We visited 3 Cenotes and had a meal and didn't feel rushed at all in the amount of time we had.
Last Tip
Tip #4   Be open with your guest and share life with them.  By the time the excursion was over,  we all felt like we had a new friend.  We had learned so much about the culture of Yukatan but we also learned so much about our guide and his life in the Yukatan.  Our guide, Daniel, was able to share from a resident's perspective on how wonderful his State is and how he is passionate about letting other's know about his state.
If you are looking for a place to go that is almost untouched by the tourist and need a guide to help you see the Yukatan, you have to connect with Lawsons Yukatan Excursions.  I really believe if we had not connected with them, we would not have realized or seen this amazing area.
Just to send you off drooling over the beautiful Yukatan Cenotes, here are a few more pictures for you to enjoy.